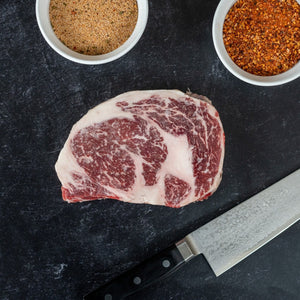 When it comes to cooking a Rugby Scott Angus Ribeye, you can't go wrong with this cut of beef. It's marbled throughout with fat, giving it plenty of flavor and juiciness when cooked. The Rugby Scott Angus Ribeye also has great texture, with a tenderness that can't be found in other cuts. Be sure to season the ribeye before cooking, as this will add even more flavor.
Whether you're celebrating a special occasion or just looking to make a memorable meal, these unique steaks are the perfect choice.
Enjoy one of our pasture raised and always hormone and anti biotic free Black Angus Choice Ribeyes or Black Angus Prime Ribeyes.