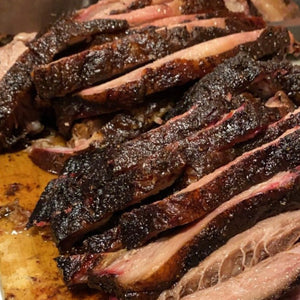 Our Brisket Black Angus Choice is a delicious and juicy cut of beef that is perfect for slow-cooking, grilling, or smoking. This cut of beef is full of flavor and is sure to please any crowd. It has a deep, rich flavor that is enhanced when cooked low and slow, making it a great choice for BBQ recipes. The marbling of the fat in our Rugby Scott Brisket Black Angus Choice makes it tender and juicy after cooking, while still maintaining its structure. Brisket Black Angus Choice is sure to be a hit at any gathering and will have your guests asking for seconds. Our Rugby Scott Black Angus Brisket is perfect for that weekend smoker or BBQ tailgate.
Product is normally 11-14 lbs. 
Product ships frozen and will arrive frozen or cool to the touch .