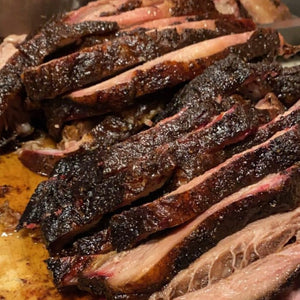 Our American Wagyu Brisket is perfect for that weekend smoker or BBQ tailgate. Rugby Scott Brisket Wagyu is known for its exceptional marbling, which adds a unique texture and juiciness to the meat. The marbling of this cut of beef is the result of the intermingling of fat and meat fibers, creating a unique flavor that is unlike any other. Brisket Wagyu Premium Grade is a great choice for slow cooking, as it will retain its juicy flavor and texture. Rugby Scott's Brisket Wagyu Premium Grade is a cut of beef that is sure to impress your guests.
Product is normally 11-14 lbs. 
Product ships frozen and will arrive frozen or cool to the touch .